20 false beliefs debunked by science
Some commonly held beliefs are so casually embedded it can be downright embarrassing to discover we've all been parroting nonsense. Others are deeply pernicious, simmering and flaring despite all attempts to snuff them out. And some simply froth into existence with current events, like memes or celebrity couple portmanteaus. Here are some of the false beliefs that have been thoroughly debunked by science.
Suffocating masks
The misinformation around the COVID-19 pandemic has become a pandemic in its own right. One of the sillier—and deadlier—falsehoods has been that face masks can cause hypoxia or mysteriously suppress the immune system, despite the fact that surgeons around the world have been safely wearing them for decades. A study published in October 2020 confirmed that face masks do not affect oxygen levels, even in those with very severe lung impairments.
10% brain
The very sticky myth that humans ordinarily use just 10% of our brains has been around for decades, commonly used to explain genius or promise a sure-fire way to awaken your own dormant capacity for brilliance. Sadly, we do not all have a latent Einstein trapped within our slumbering grey matter. Science has shown our brains are highly active most of the time, and that even if not fully engaged at every moment, every part is activated at some point over a 24-hour period.
Demographics of the dead
The human population explosion of the last two centuries has given rise to legitimate concerns about the Earth's carrying capacity, along with the dramatic assertion that there are more people alive today than in all of previous human history combined. However, the best estimates are that the dead outnumber the living by at least 14:1. Since our population growth is predicted to plateau by the end of the century, the living doesn't appear likely to ever catch up.
Equinox egg
Twice a year, day and night are of the same duration: the vernal and autumnal equinox. The idea that the equinox is a special time when eggs can be balanced on their end requires the simplest science of all to debunk—a home experiment. The myth is based on the incorrect notion that the gravitational pull of the sun is somehow also in balance on the equinox. Eggs can, in fact, stand on their ends any day of the year. (World record challenge: stacking them three high.)
Moonwalk
Conspiracy theories around the first moon landing in 1969 reached a fever pitch in the following decade, but half a century later "moon truthers" still walk among us. A poll in the U.K. suggests millennials are the biggest doubters. Debunking the many "proofs" has practically become its own branch of science, and one mathematician went so far as to devise a formula for how many people would need to be in on the conspiracy for it to work—in this case, all 411,000 of NASA's employees in 1965.
Flat Earth
The ancient Egyptian notion that the Earth is flat has gained scores of new adherents in the past decade, thanks in part to YouTube. Today, as many as one-sixth of adults and one-third of young adults now doubt the Earth is spherical. For those more susceptible to science than conspiracy, there are numerous ways to prove the Earth is round all by yourself, not to mention many lovely photographs of the Earth from space.
Neanderthals
The idea that Neanderthals were dumb brutes has been popularized by books and films depicting grunting savages outwitted into extinction by their clever Homo sapiens counterparts. In fact, a wealth of evidence has amassed in recent decades that indicates Neanderthals were in every way our cognitive and cultural equals. A comfort, no doubt, to their descendants.
Terrible lizard skin
The idea that dinosaurs were scaly beasts was flipped on its head with the discovery of a range of feathered dinosaur fossils. This is a great example of science in motion, however. Dinosaur skin is incredibly rare in the fossil record, often leaving paleontologists to rely on subtle clues and impressions to guess as to its appearance. A recent analysis concludes that although some had feathers to varying degrees, most dinosaurs were indeed the scaly beasts of popular depiction.
Chameleon camo
Contrary to popular belief, chameleons don't change their colours to blend seamlessly into any backdrop. Most species are born already colour-matched to their natural environments and can lighten or darken their skin to enhance that, but showier colour changes are used to attract a mate and to communicate aggression or submission. Some timid males even use it to avoid confrontation by impersonating females.
Doggie kisses
How the belief that dog mouths are cleaner than human mouths ever took hold is mysterious—anyone who's ever had a dog has seen what they will eat. Dog mouths are at least as dirty as humans', but in their own way. Doggie mouth bacteria can definitely be dangerous, even lethal, to humans, so adorable as it may seem, don't let the dog lick your baby's face.
Sharks don't get cancer
The myth that shark cartilage can prevent or cure cancer is founded on yet another myth: that sharks don't get cancer. As it turns out, sharks can and do get cancer (though at low rates); the guy that promoted both myths was profiting from those same shark cartilage treatments. Naked mole-rats, on the other hand, almost never get cancer; and in humans, a rare form of dwarfism confers almost total immunity to cancer.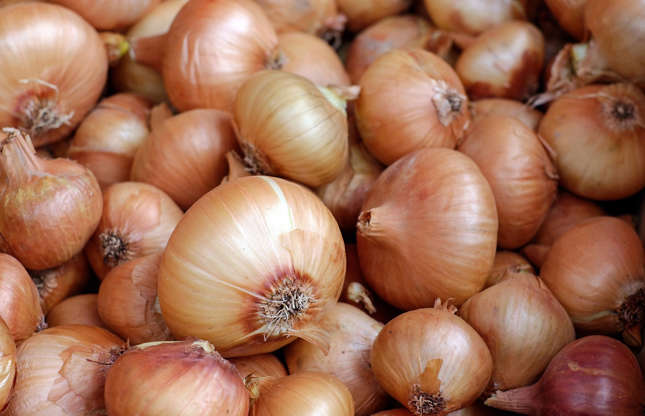 Onion sock
The myth goes that sliced onions in your socks at night will cure all manner of ailments. It's an old one that goes back at least five centuries, periodically revived under various guises. As with many phony health "cures," modern proponents cite a blend of ancient Chinese wisdom, legitimate health attributes of various compounds in onions, and a deep misunderstanding of human physiology. The bottom line? Onions applied topically will have topical effects; for any internal health benefits, they must be consumed.
Alkaline diet
Initially developed for those with chronic kidney disease, the alkaline diet was coopted by the alternative health industry and quickly reached fad status. Science shows that for those of us with healthy, functioning kidneys, an alkaline diet isn't necessary per se for general health or useful in cancer prevention. On the bright side, the alkaline diet is basically a plant-based diet, which is great for health and the planet for a whole host of other reasons.
Vaccines
Vaccines have long been a bugbear in the popular imagination, despite being one of the greatest public health achievements of the 20th century. The achievement has been undercut by a dark history of human rights violations, and in 1998, vaccine hysteria was supercharged by a fraudulent, thoroughly discredited, and retracted paper that linked childhood vaccines with autism. Since then, fuelled by social media, anti-vax sentiment has spread to other life-saving immunizations, including the recently developed COVID-19 vaccines.
Hydration hype
Touted as a panacea, performance enhancer, and secret to youthful skin, the prescription of at least eight glasses of water daily may have fuelled a boom in the bottled water industry but it's not based on much evidence at all. It also turns out that coffee, demonized as a diuretic, doesn't actually dehydrate, water isn't the most hydrating drink out there, and that you get up to a third of your water from food alone. The best prescription backed by science? Drink when you're thirsty.
Cracked knuckles
The shotgun sound of knuckles cracking has prompted many a maternal warning: "You'll give yourself arthritis!" It seems, however, the practice is mostly harmless, and definitely not linked to increased risk of arthritis. One dedicated scientist even conducted a lifelong study of one on himself—cracking the knuckles on just one hand every day for 50 years—to investigate the claim.
After-dinner swim
Blame the Boy Scouts: it was their 1911 manual that planted the enduring fear that swimming after a meal could produce paralyzing cramps. Generations have dutifully waited at least 30 minutes to swim after eating, despite the fact that science has long since debunked the myth.
Nuked water
Microwave ovens have generated fears from the time of their invention, largely from a misunderstanding of the different kinds of radiation (hence the term "nuking" your food). The myths have not died out; among the more recent, one claims that microwaving water makes it harmful, citing an experiment where seedlings fed microwave-heated water withered away, unlike those fed water heated on the stovetop. The science to debunk this one is available (encouraged, even!) to anyone with a microwave oven.
Killer coin
The idea that a coin dropped from a skyscraper could kill an unwary pedestrian has been passed down since the first skyscraper was built, but in reality, air resistance would prevent it leaving so much as a bruise. However, something less prone to air resistance—like a ballpoint pen—could prove lethal, and in a vacuum, even a piece of paper could do damage from that height.
Bye-bye blondes
The idea that blonde is an endangered hair colour goes back centuries, based largely on a faulty understanding of recessive genes. The misconception has seen several revivals by even reputable mainstream media, forcing the World Health Organization at one point to refute the claim they had published a report claiming blondes would be extinct within 200 years and "stress that we have no opinion on the future existence of blondes."