American foods that are banned around the world
What Americans eat, and how they eat, seems to be a unique phenomenon, somehow impervious to the health conditions of other countries. One of the most mind-boggling parts is that the US regularly stocks grocery stores with tons of ingredients that consumers don't know about. Check out this gallery, based on a list from Mic, to see the American foods which are banned around the world.
Many dairy products
Synthetic growth hormones rBGH and rBST are approved for use in cows by the FDA (US Food and Drug Administration) despite the fact that they're bad for both cows and people, causing infertility, weakened muscle growth, and an array of cancers.
Many dairy products
The hormones are totally banned at dairy farms and in dairy products in the European Union, Canada, Australia, Israel, Japan, and New Zealand.
Colorful foods with artificial dyes
Food dyes like Yellow 5, Yellow 6, Blue 1, Blue 2, and Red 40, often used in children's food, are made from chemicals derived from petroleum and have been linked to cancer, nerve-cell deterioration, and hyperactivity.
Colorful foods with artificial dyes
Their only purpose is to make food look appealing, but at what cost? And it's not just in candy, juice, and cereal—it's also in salmon, mac and cheese, ice cream, and salad dressings.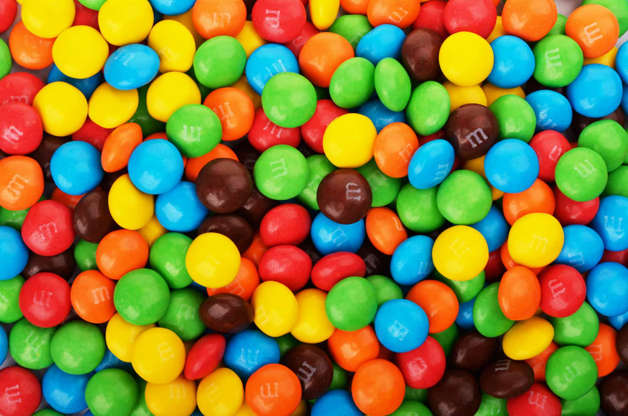 Colorful foods with artificial dyes
The FDA-approved additives are banned in Norway, Finland, Austria, France, and the UK, and many American food companies (like M&M) remove their dyes overseas but keep them in the US.
Colorful foods with artificial dyes
In 2015, Kraft removed its Yellow 5 and Yellow 6 dyes from its iconic orange macaroni and cheese, opting for natural coloring agents such as paprika and annatto.
Soft drinks with brominated vegetable oil (BVO)
The chemical that makes food dye stick to liquid, which is also used in flame retardant, is an acceptable additive in American soda, despite its link to birth defects and major organ damage.
Soft drinks with brominated vegetable oil (BVO)
The FDA-approved ingredient has also been linked to skin rashes, acne, loss of appetite, fatigue, memory loss, and nerve disorders. Over 100 countries have decided that those effects are not desirable in their soft drinks.
Soft drinks with brominated vegetable oil (BVO)
In 2014, Coca-Cola and PepsiCo both vowed to remove BVO from their ingredients lists, but Mountain Dew still has it.
Yoga mat chemical
Known as the yoga mat chemical, this bleaching agent and dough conditioner (that the FDA considers safe for food) makes bread dough light and strong, just as it does in yoga mats.
Yoga mat chemical
Linked to asthma and other diseases, ADA is also found in boxed pasta mixes, frozen dinners, packaged baked goods, and almost 500 common grocery foods. But it's banned altogether in Europe, Australia, and Singapore.
Poultry, water, and rice with arsenic
Yes, it's the poison you're thinking of, one of the World Health Organization's top 10 chemicals of public health concern, found at alarming rates in US drinking water, crops, and livestock feed to make meat appear pinker and fresher.
Poultry, water, and rice with arsenic
Long-term exposure to arsenic can trigger cancer and heart disease, and it's banned in livestock feed in places like the European Union and Japan, but defended (in low amounts) by the FDA.
McDonald's
This chain is everywhere in the US, and with nearly 37,000 restaurants worldwide, it might surprise you that several countries—Bermuda, Iran, Macedonia, Yemen, Montenegro, North Korea, Zimbabwe, Bolivia, and Iceland—have banned the fast-food chain.
McDonald's
For either economic, political, or health reasons, or perhaps their lack of green initiative, the American corporation is often despised in these countries for what they consider a lack of regard for human beings.
Those shiny, waxy apples
That glossy, fresh look of grocery store apples, unfortunately, comes from DPA, a mixture of chemicals that keep the fruit looking fresh, and a compound derivative of aniline that seals DPA in.
Those shiny, waxy apples
The European Food Safety Authority has banned American apples treated with DPA as the chemicals have been linked to various cancers.
"Low fat" products that use Olestra/Olean
If calorie-free, fat-free, and cholesterol-free chips, fries, and treats sound too good to be true, that's because this is exactly the case. The Procter & Gamble creation, dubbed one of Time's 50 Worst Inventions, is an FDA-approved synthetic fat meant to replace cooking oil.
"Low fat" products that use Olestra/Olean
These diet versions of foods have been linked to gastrointestinal disease in children, violent diarrhea in adults, and, ironically, an increase in appetite! Olestra is banned in Canada and the UK.
Bread with potassium bromate
While this dough strengthener and riser are great for impatient bakers, it's also linked to cancer, kidney and nervous system damage, thyroid problems, gastrointestinal discomfort, and cancer.
Bread with potassium bromate
American hamburger and hot dog buns, wraps, rolls, breadcrumbs, bagel chips, and flatbreads all commonly use brominated flour, but it's banned in the European Union, China, Canada, and other countries.
Preserved foods with BHA and BHT
Butylated hydroxyanisole (BHA) and butylated hydroxytoluene (BHT) are the preservatives that keep food from going rancid and can be found in everything from cereal, nut mixes, and gum to meat, butter, and dehydrated products.
Preserved foods with BHA and BHT
The chemicals, banned in the UK, Japan, and many other European countries, are linked to cancer and tumor growth.
Farm-raised salmon
Farmed fish are fed an unnatural diet of grains and often pumped with antibiotics to make them bigger, which turn them grey, and then they're fed synthetic astaxanthin (made from petrochemicals) to make them pink.
Farm-raised salmon
Banned in Australia and New Zealand, farm-raised salmon are known to have high levels of persistent organic pollutants, which is associated with an increased risk of stroke in women.
Genetically modified fruits and vegetables
Genetically engineered papaya is banned in the European Union, along with the unmarked sale of genetically modified foods, and several countries have full or partial bans in place as well.
Ractopamine-tainted meat
Much of the meat sold at grocery stores contains a cocktail of additives, preservatives, and food coloring agents. One especially bad additive is the drug ractopamine, fed to livestock to unnaturally boost their growth.
Ractopamine-tainted meat
Linked with cardiovascular problems and hyperactivity in both animals and humans, the use of this drug is totally banned in Russia, China, Taiwan, the European Union, and dozens of other countries.