Historical pictures of China you've never seen before
The world's first photographs, black-and-white images that took about eight hours to develop, were produced in France in 1826 or 1827. In the decades that followed, photographers around the world experimented with colour, perspective, and presentation, displaying photos using "magic lanterns" and other early slide projectors. Mass-produced postcards became popular around the world in the late 1800s and early 1900s. The postcards and slides in this gallery allow for a memorable trip to early 20th-century China.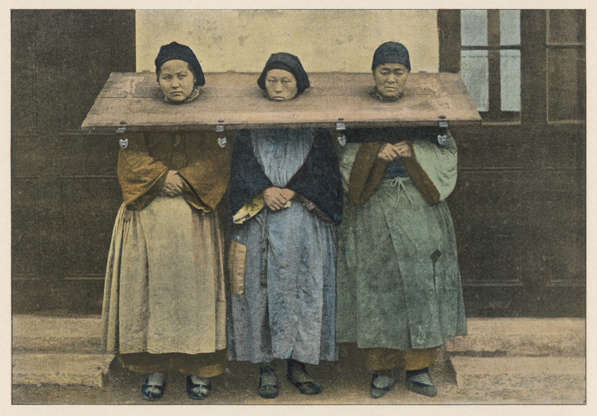 School for the Blind band (Fuzhou)
This photo from the early 1910s shows band members from the Fuzhou School for the Blind. According to the University of Bristol (which maintains an online archive of historical photos of China), the Church Missionary Society Blind Boys' School was founded in 1898 in Fuzhou, southeastern China, by Australian nurse and missionary Amy Oxley Wilkinson. Music ensembles from the school "later began touring Fujian province, then [travelled] to other parts of China, and finally to the UK," according to the university.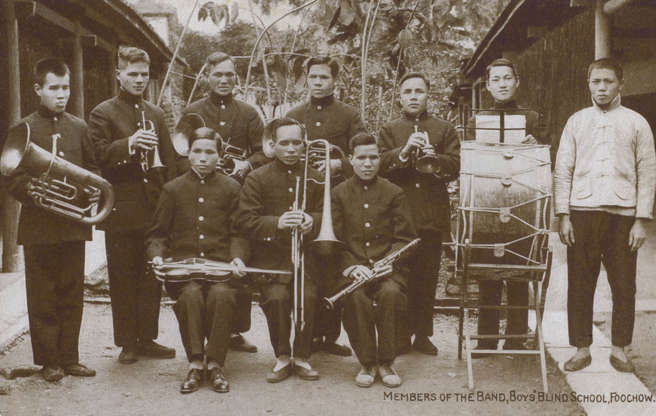 Nun giving alms (Shanghai)
This photo, believed to be from the late 1890s or early 1900s, shows a Catholic nun in Shanghai giving alms to a begging child. The photo was taken "before or shortly after" the Boxer Rebellion, a nationalist revolt in 1900 that attempted to overturn the Chinese imperial regime and drive all foreigners from the country. According to Encyclopedia Britannica, the rebels also attacked both Chinese and foreign Christians. As many as 100,000 people died in the revolt; according to the encyclopedia, "the great majority of those killed were civilians, including thousands of Chinese Christians and approximately 200 to 250 foreign nationals (mostly Christian missionaries)."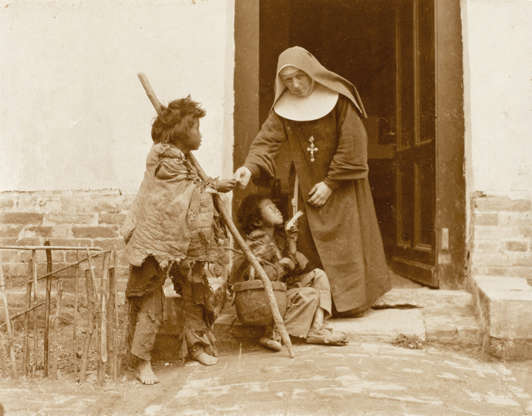 Palanquin and rickshaw (location unknown)
This image from the 1870s shows a man being carried on a palanquin (also known as a Chinese sedan chair) by three other people. According to chinaculture.org, the use of the palanquin to transport people, usually people of high rank, dates back 4,000 years. "Generally, the number of carriers and the size of the sedan [chair] can indicate the status of the user," says the site. In centuries past, specially trained civil servants carried high-ranking officials in palanquins; today, when they're used at all, they're used to carry brides on their wedding days.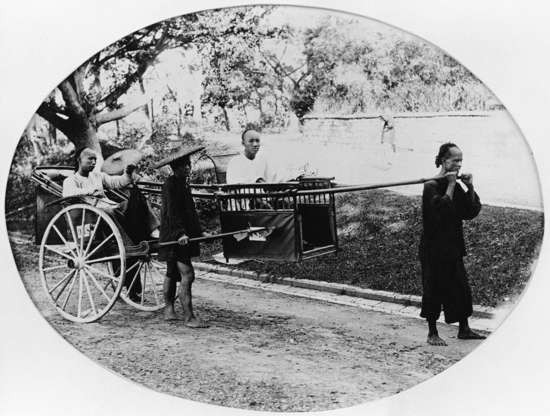 Market day during the flood (Wuhan)
This photo from late September 1931 shows traders at an open-air market along the Yangtze River in Wuhan (then Hankow), conducting business while waist-deep in water. According to the History Channel, the Yangtze hit its highest point on August 18, 1931; floods that year killed as many as 3.7 million people, due not only to the rising waters but also to starvation—rice fields were swamped—and epidemics. In normal times, large-scale disaster may have been averted, but "with much of the area's resources devoted to civil war at the time, the river was neglected." The History Channel calls the floods "perhaps the worst natural disaster of the 20th century."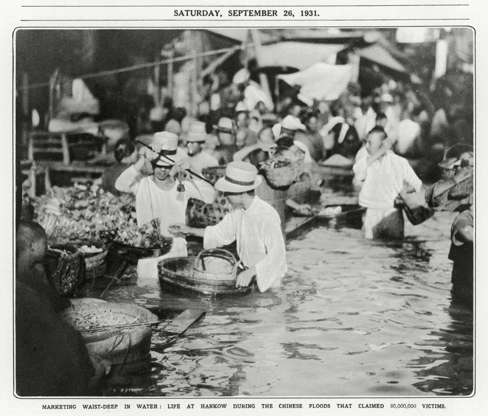 Grant visits China (Tianjin)
Ulysses S. Grant, the general who led the Union forces to victory in the American Civil War, served two terms as president of the United States during the postwar years (from 1869 to 1877). Once out of office, Grant decided to see the world. The former president and his wife toured Europe and the Mediterranean and were about to return home when the U.S. government asked him to serve as a goodwill ambassador in Asia. According to Humanities magazine, Grant "made a friend in Viceroy Li Hung-chang [pictured], whom he judged to be 'probably the most intelligent and most advanced ruler—if not man—in China.'" After Grant's departure, no acting or former U.S. head of state would visit China until President Richard M. Nixon did so in 1972, nearly a century later.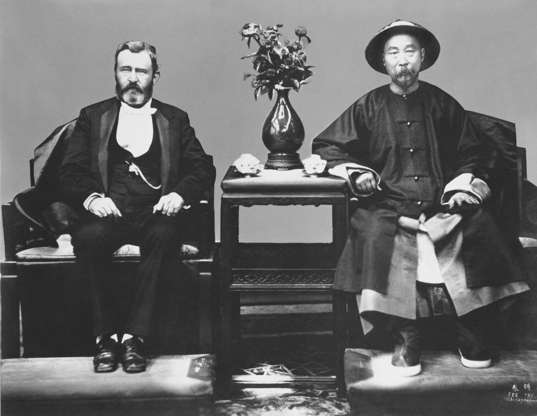 Junks in the harbour (location unknown)
This photo from around 1880 was developed using the albumen process, popular in late 19th- and early 20th-century photography. Photographers would mix ammonium chloride or sodium chloride with egg whites and develop the photos using the mixture, leaving a glossy finish. According to the Mariners' Museum and Park in Newport News, Virginia, boats like these, known as junks and recognizable by their curved sails reinforced with bamboo bars, date back nearly 5,000 years and are still used as fishing boats today.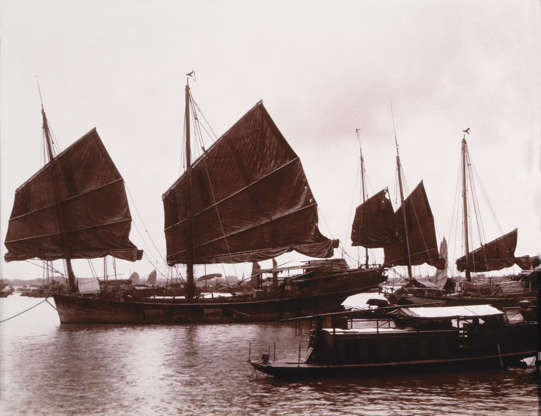 Board game day (Shanghai)
This albumen print shows a group of young men playing a board game in Shanghai, around 1880. Once a fishing village, Shanghai was named a treaty port by the British at the end of the First Opium War, in 1842. From then on, as this New York Times/Fodor's feature states, the city was "carved up into autonomous concessions administered concurrently by the British, French, and Americans, all independent of Chinese law." Shanghai grew into a bustling, cosmopolitan trading port attracting not only foreign businesspeople but migrants from across China.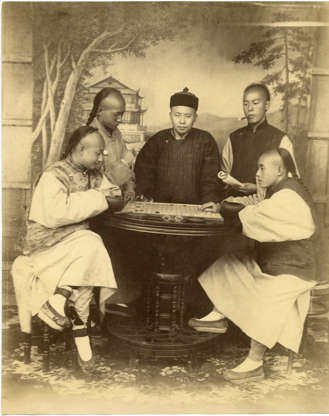 Mission children (Gansu)
This photo from the early 1900s shows orphans at a Catholic mission in Gansu province, north-central China. According to the China Online Study Centre, a website devoted to Christianity in China, Gansu is one of China's most culturally and religiously diverse provinces. Gansu is home to one of the country's largest Buddhist monasteries but has also had a Christian presence for centuries. Missions like this one first appeared in Gansu in the 19th century. Although all forms of religious belief are officially discouraged in present-day China, the study centre reports that "since the 1980s, churches have reopened and grown significantly."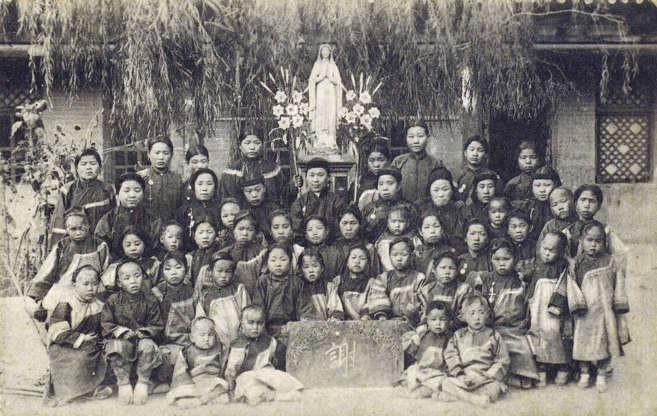 Royal Inniskilling Fusiliers (Tianjin?)
This photo from about 1911 shows British soldiers posing with an award, "possibly in Tientsin (now Tianjin)" in northeastern China. The Royal Inniskilling Fusiliers were a regiment from Ireland (then entirely under British control) that arrived in Tientsin in 1909. Until mid-1911, "duties were light, apart from guards, parades and route marches, with plenty of time for sport." The regiment was about to be redeployed to India when they were called back in the context of a mutiny by Chinese troops.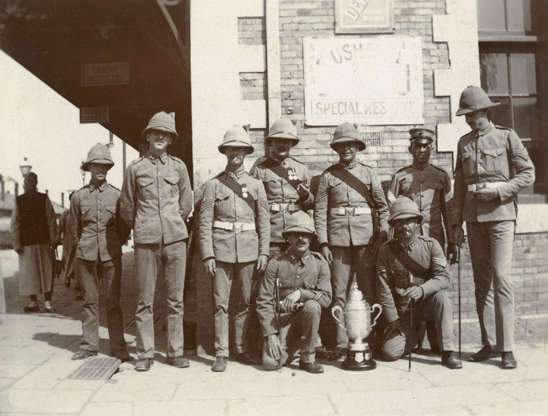 Actor in the costume of a god (location unknown)
This photo taken around 1911 shows an actor dressed as a Chinese deity. According to Encyclopedia Britannica, theatre with shamanic religious motifs dates back about 3,000 years in China. "Whether designed to pray for longevity or for a rich harvest or to ward off disease and evil, the rituals of impersonation of supernatural beings through masks and costumes and the repetition of rhythmic music and patterns of movement perform the function of linking humans to the spiritual world beyond," the encyclopedia states.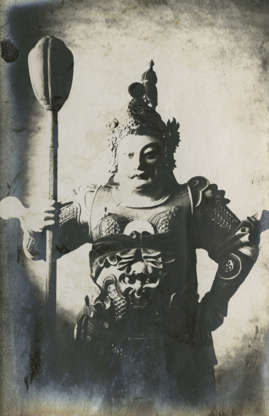 A dinner party (location unknown)
Although the true colour film didn't become widely available until the mid-1930s, photographers experimented with hand colouring as early as the 1850s, according to the Science and Media Museum. In the early 20th century, many photos of Chinese street life, like this one, were colourized by hand or by a process called photochrom, and then "developed as postcards to be sold to foreign visitors," according to the Asia Society. "In 1911, the Xinhai Revolution marked the end of China's last imperial dynasty (the Qing) and began the Republican era, which lasted until the foundation of the People's Republic in 1949. Around this time, foreign tourists and long-term expatriates poured into the country," the Asia Society blog states and the market for postcard images like this one took off.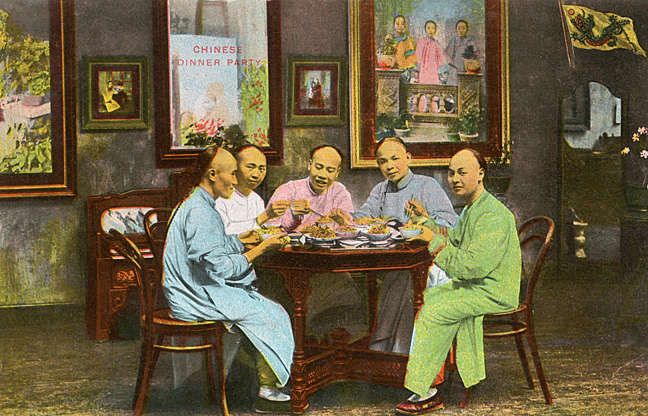 Hauling ice (Tianjin)
This picture was taken around 1911 in Tianjin and shows people hauling blocks of ice from a frozen river. Today, as one Scottish expatriate in Tianjin observes, traffic on the city's once-bustling rivers and canals has quieted down, and the banks of the waterways have been largely landscaped into pedestrian-friendly spaces. According to Lonely Planet, when the river freezes over now, instead of hauling the ice away to be melted, some people skate on it.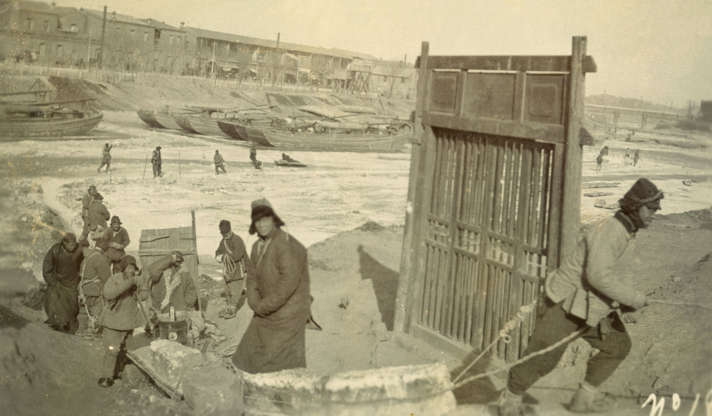 Shared burden (location unknown)
This colourized photo from the 1890s shows three women wearing a device called a cangue, which was used as a punishment. According to Hong Kong history blog Gwulo, the cangue punished its wearers in three ways: shame ("apart from the obvious sign you've done something wrong, papers noting your crime would be stuck on the boards, making them clear to passers-by"), pain ("wearing the heavy wooden board was very uncomfortable" and hunger ("the board was large enough that you couldn't reach your mouth with your hand, so had to rely on others to feed you"). Criminals and disgraced officials were punished by having to wear cangues of varying weights for varying lengths of time. The punishment was abolished in the late Qing period (early 20th century).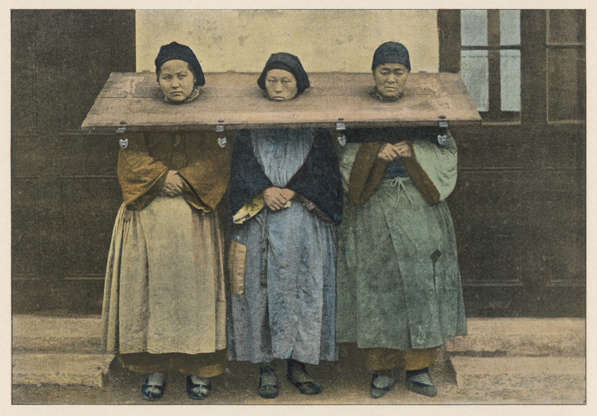 Sharing a meal (location unknown)
This colourized postcard of a family gathered around a table was produced in the 1890s. Chinese cuisine was an object of fascination for the British public at the time, according to researcher R.G. Forman. "For decades, the exotic and sensuous fare of the Flowery Land had been elaborated for readers back home and from a distance by a multitude of writers and travelers who had tested the cuisine on their behalf," Forman writes. Although some writers emphasized exotic ingredients and "ritual disgust," others, such as Isabella Bird, raved about the variety of the dishes and the ingenuity of the cooks. "Cleanly [sic]cooking and wholesome and excellent meals are often produced in dark and unsavoury surroundings," Bird wrote in 1899.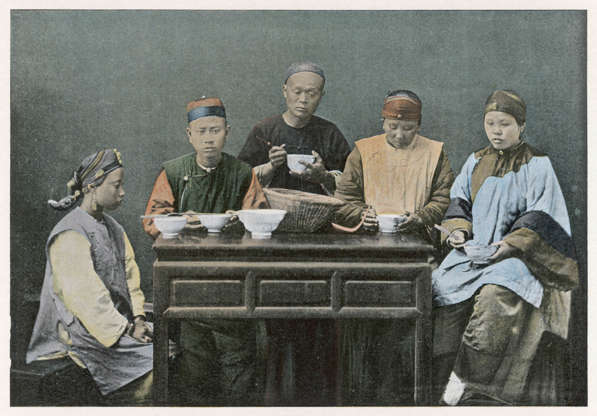 Smiling child (Manchuria)
This family scene from Manchuria, northeastern China, in the early 1900s was colourized and immortalized on a magic lantern slide. As far back as the 17th century, according to the Magic Lantern Society of the United States and Canada, scenes were painted on glass and shown using these early projectors, which work by shining light through glass slides. In the 1850s, the first methods for printing black-and-white photos on glass were developed, although early colour photo slides had to be coloured by hand directly on the glass. Colour transparency film wasn't available until the 1930s.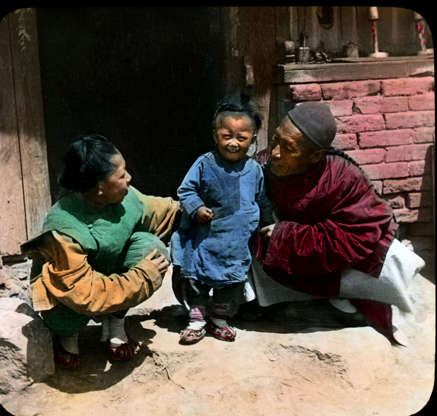 Barbershop (location unknown)
This image provides a look inside an early 20th-century Chinese barbershop. In 2011, China Daily quoted an elderly barber in Hebei province, who said the ancient Chinese believed "barbers would never starve" because men would always need people to shave their heads and beards. "Barbering is one of China's oldest professions—one that requires high skill levels from its practitioners. However, except for in some remote villages and counties, this time-honored way of earning a living has been essentially replaced by the beauty salon industry," China Daily lamented. By the early 20th century, according to China Heritage Quarterly, many men were having their traditional "pigtails" cut off as a mark of "modernization" or resistance to imperial rule.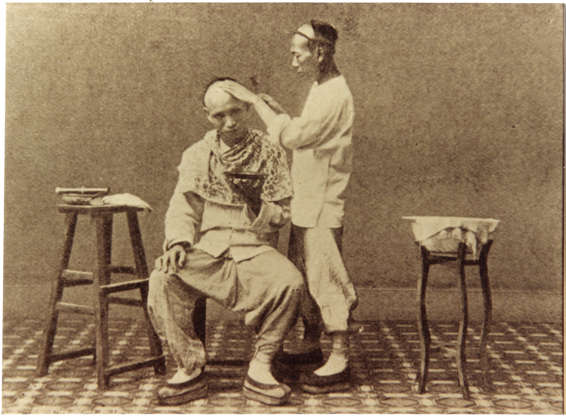 Quartet (location unknown)
This postcard from the early 1900s shows a quartet of traditional musicians, including three pipers and one man playing a traditional lute. Chamber music ensembles like this one performed for royalty, for traders and business people, and, in rural areas, for their neighbours, according to Encyclopedia Britannica. Incidentally, the encyclopedia notes that the strings of traditional Chinese instruments aren't made from gut or metal but from twisted silk.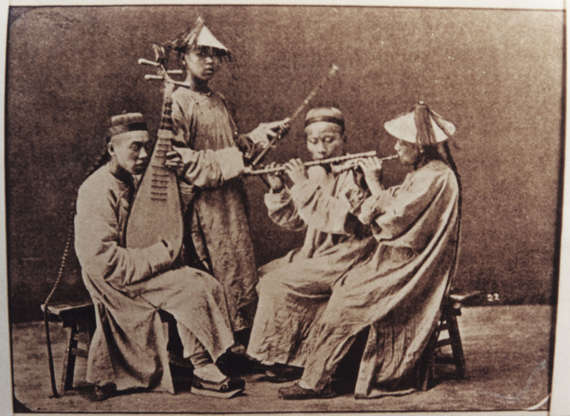 Lotus feet (location unknown)
This photo shows a young woman with bound feet, seated across from a person with unbound feet (whose face is cut out of the frame). For centuries, in China, the tiny, deliberately deformed feet of aristocratic women represented "the height of female refinement," according to Smithsonian magazine. "The most desirable bride possessed a three-inch foot, known as a 'golden lotus,'" Amanda Foreman writes for Smithsonian. The process began when a girl was five or six years old when her toes (except for the big toe) were broken, her arches bent and her feet bound in silk wrappings that got tighter and tighter as the process advanced; the heel and the sole of the foot were eventually crushed together. Women with bound feet were never able to walk normally again. Foot binding was banned in 1912, but continued in secret for decades; as recently as 2015, photojournalist Jo Farrell found dozens of elderly survivors of the practice while researching a book on it.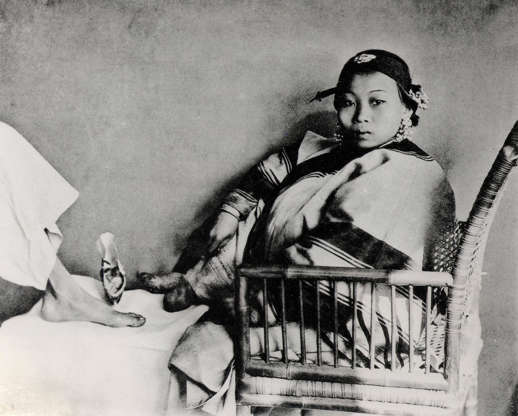 In front of a temple (Shanghai)
This colourized postcard from the early 20th century shows people gathered around a temple in Shanghai. In 1842, as part of the treaty that ended the first Opium War between China and Britain, Shanghai was "opened for unrestricted foreign trade" according to Encyclopedia Britannica. "The British, French, and Americans took possession of designated areas in the city within which they were granted special rights and privileges," the encyclopedia explains. These colourized postcards of Chinese urban life were produced for travellers and expatriate employees of foreign companies to mail home.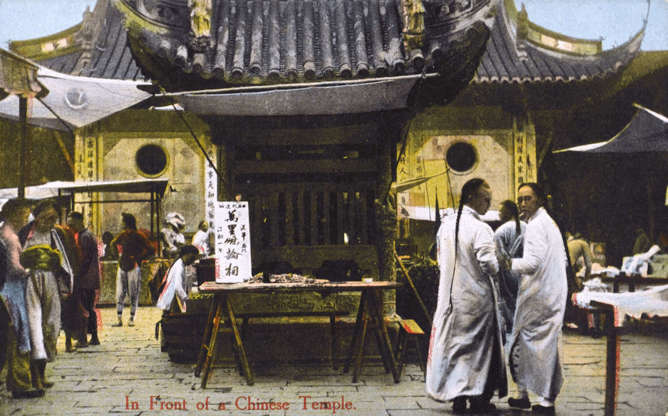 Evacuation (Harbin)
The photo on this postcard was taken in Harbin, northeastern China, around the time of the Boxer Rebellion. The uprising was led by a secret society called the Society of the Righteous and Harmonious Fists, which blamed foreigners in China for the poor living conditions of the majority of Chinese. According to the History Channel, the rebels killed several hundred foreigners and several thousand Chinese Christians and destroyed foreign property. In August 1900, a multinational force of 20,000 soldiers from eight countries arrived to evacuate those under threat. The Russian inscription on this postcard states that it shows the evacuation of the families of Russian military service members from Harbin "along the Sungari River, during the time of the Boxer Rebellion of 1900."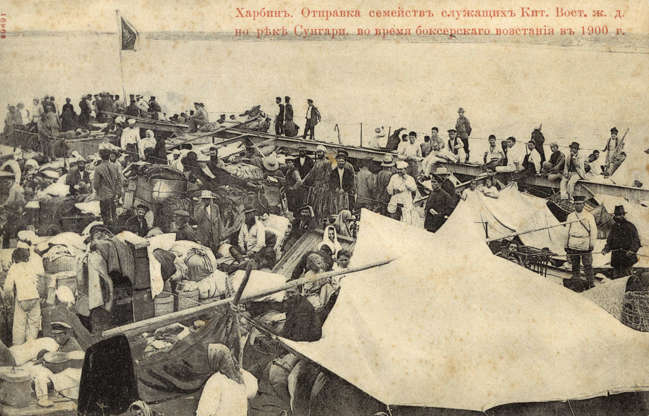 The gate of the Imperial City (Beijing)
This postcard shows horse-drawn carriages in front of the gate of the Forbidden City in Beijing (then Peking). The Forbidden City is a city within a city made up of more than 90 palace compounds, which housed the imperial court from its completion in 1420 until the expulsion of China's last emperor, Puyi, in 1925. According to the online learning site Khan Academy, the court "determined the occupants of the Forbidden City strictly according to their positions in the imperial family," with buildings designed differently based on the social status of their inhabitants. Today, it's China's most visited tourist attraction.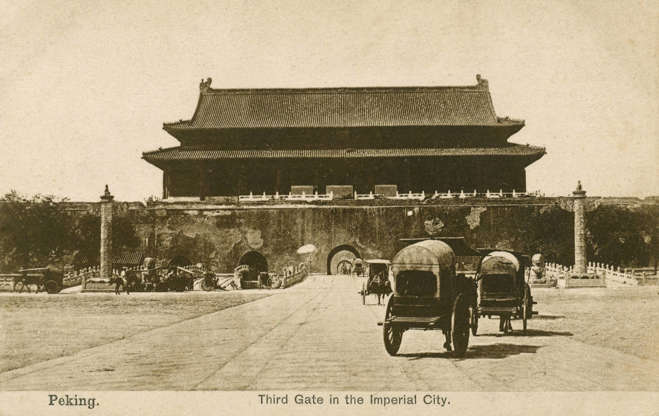 The last emperor (Beijing)
In this photo taken around 1909, four-year-old Emperor Puyi (right) stands next to his father and baby brother. After the Chinese revolution of 1911-12, the child emperor was forced to abdicate, ending the 2,000-year-old Chinese imperial system. Twelve years later, he fled the Forbidden City and reached the Japanese concession (colony) at Tianjin. From 1934 to 1945, he served as emperor of Manchukuo, the puppet state of Imperial Japan in northeastern China. Captured by the Soviet army at the end of the Second World War, he was sent back to China in 1950 to face trial for war crimes. He was pardoned in 1959 and lived out his days working in Beijing's botanical garden, an ordinary citizen who, as the South China Morning Post forlornly notes, "had to buy a ticket to enter his old home."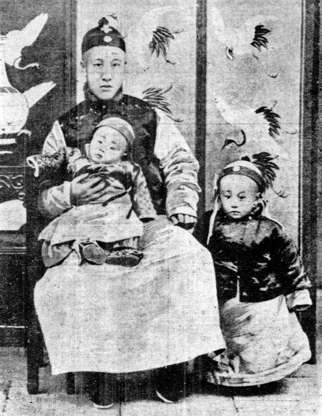 A gang of young rice harvesters (location unknown)
This postcard shows a party of young rice harvesters in rural China in the early 1900s. According to Encyclopedia Britannica, the earliest evidence of rice cultivation has been found in China, dating from 7000 to 5000 BCE. Although changes in agricultural production methods in the 1970s created a large surplus of agricultural labour and led many villagers to seek out factory jobs in the cities, such that more than half of the country's population of 1.3 billion now lives in cities, many rural Chinese landscapes are even now dominated by rice fields, the encyclopedia states.
Actors in costume (Hong Kong)
This colourized postcard from early 20th-century Hong Kong shows Chinese opera performers in elaborate costumes. According to the website Chinasage, traditional opera was "for centuries the top form of entertainment in China," blending theatre, music, song, and acrobatics, and has existed in some form for a thousand years or more. Chinasage explains that aspiring opera performers, who were all boys and men until the 20th century, were recruited at the age of 7 or 8 and went through long hours of instruction in singing, acrobatics, choreography, and martial arts. Onstage, "there are strict rules and conventions that limit creativity and yet each generation seeks to surpass what has gone before."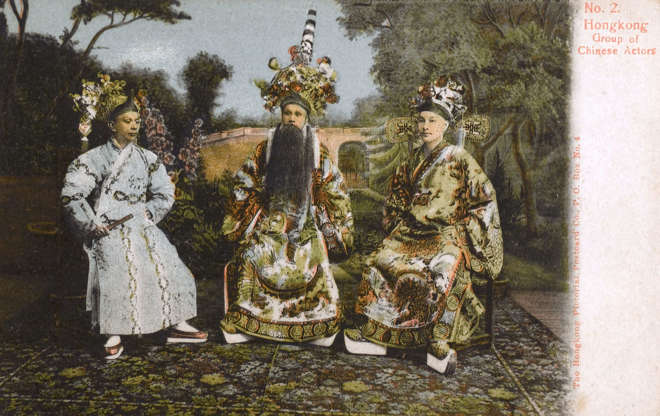 Bombardment of Port Arthur (Dalian)
This photo shows damage to a Russian administrative building in the northeastern Chinese city of Port Arthur (later Dalian) during the Russo-Japanese War in 1904. Russia secured a 25-year lease on the port in 1898, setting up a confrontation with Japan as Britain, France and Germany also staked claims on Chinese territory. In February 1904, at Port Arthur, the main Japanese fleet took Russian forces by surprise, setting off the Russo-Japanese War. In early January 1905, Russia surrendered Port Arthur. Japan eventually defeated Russia, the first modern victory of an Asian military power over a European one.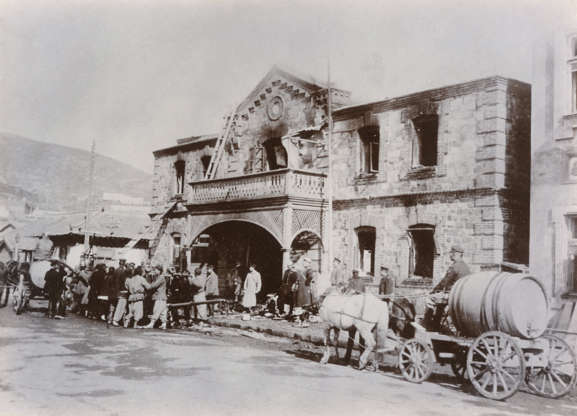 Advance of Russian troops (Dalian)
This stereo card photo from 1904 shows Russian troops marching along the Chinese Imperial Railway line. The cards, showing two almost-identical photos, are designed to be seen through a stereoscope, a binocular-like device. According to the website Reframing Photography, the stereoscope "relies upon the principle that each eye sees a slightly different view and that these two dissimilar pictures are united by the brain." As a result, "viewed through the stereoscope, the flat images seem to become one picture with three-dimensional depth."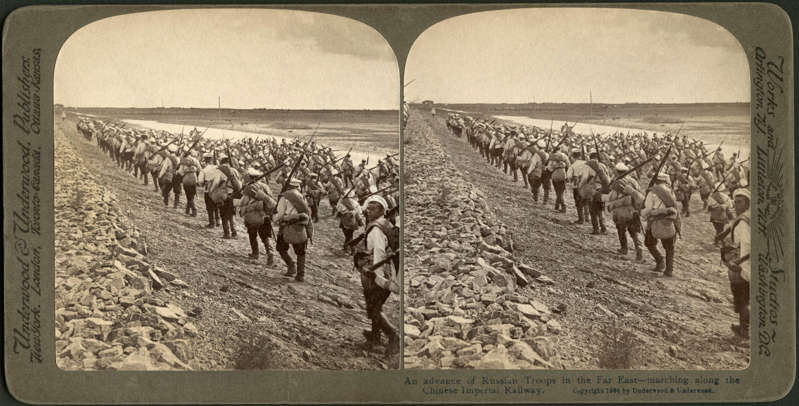 Tibetan musicians (Tibet)
This early 20th-century postcard shows a group of traditional Tibetan musicians. "Tibetan folk music originated directly from ordinary Tibetan people's minds," musicologist Ngawang Choephel, who produced a documentary on Tibetan traditional music in 2009, tells Voice of America. "It's a very pure form of oral tradition, of our Tibetan people's history, knowledge, and beliefs." Since the 1940s, the Chinese government has actively sought to manipulate and repress Tibetan traditional music; Choephel himself was arrested while on a recording trip for the documentary.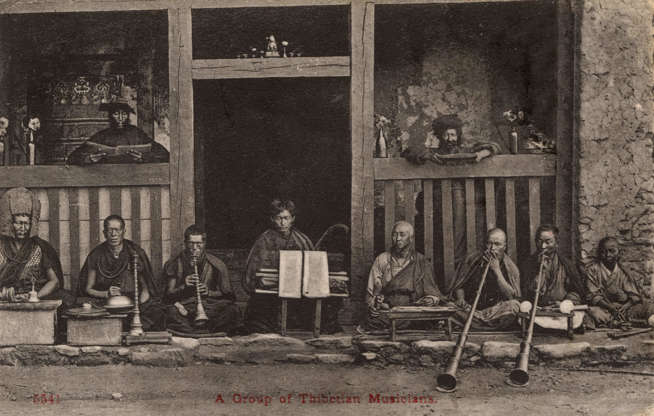 Street scene (Guangzhou)
The photo on this postcard was taken in the early 1900s in Canton (now Guangzhou). The city has been largely transformed in the decades since this photo was taken, according to Encyclopedia Britannica. "Old Guangzhou was a crowded city of narrow streets and winding alleys. A vigorous modernization program was carried out in the 1920s and '30s, during which wide streets were built, modern sewers introduced, arcades constructed for sidewalk shops, and numerous parks created," the encyclopedia states. Guangzhou "has long been one of China's main commercial and trading centres." The rapidly expanding city is now home to over 11 million people, making it the fifth-largest city in China.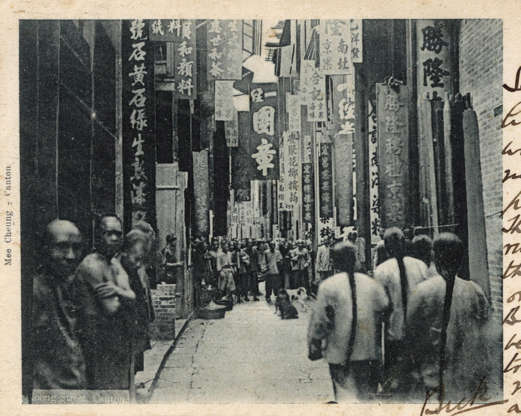 Tailor girls (location unknown)
This postcard shows young girls sewing clothes at a streetside tailoring workshop in an unspecified Chinese town in the early 1900s. Today, in China as in much of the rest of the world, clothing production has moved away from workshops like this one, into large-scale factories. In 2016, the South China Morning Post reported that tens of thousands of children and young adults, including children under 16, are forced to work long hours sewing clothes, facing docked wages if they "misbehave."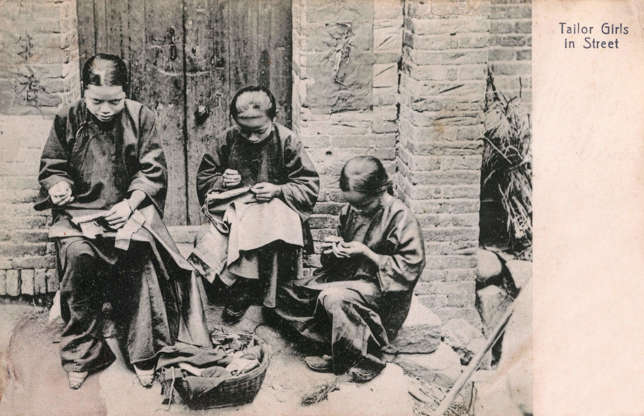 Street scene (Beijing)
This postcard shows people watering plants on a busy pedestrian street in Beijing (then Peking). "Few cities in the world have served for so long as the political headquarters and cultural centre of an area as immense as China," Encyclopedia Britannica states. First established by the Mongol Empire in the year 1267, Beijing has not always served as the capital throughout Chinese history but has continuously remained a key cultural centre. "Beijing's importance was fully realized, however, only when the city was chosen as the capital of the People's Republic in 1949, and this political status has added much vitality to it," the encyclopedia says.