How Baby Cages Became An Early 20th-Century Fad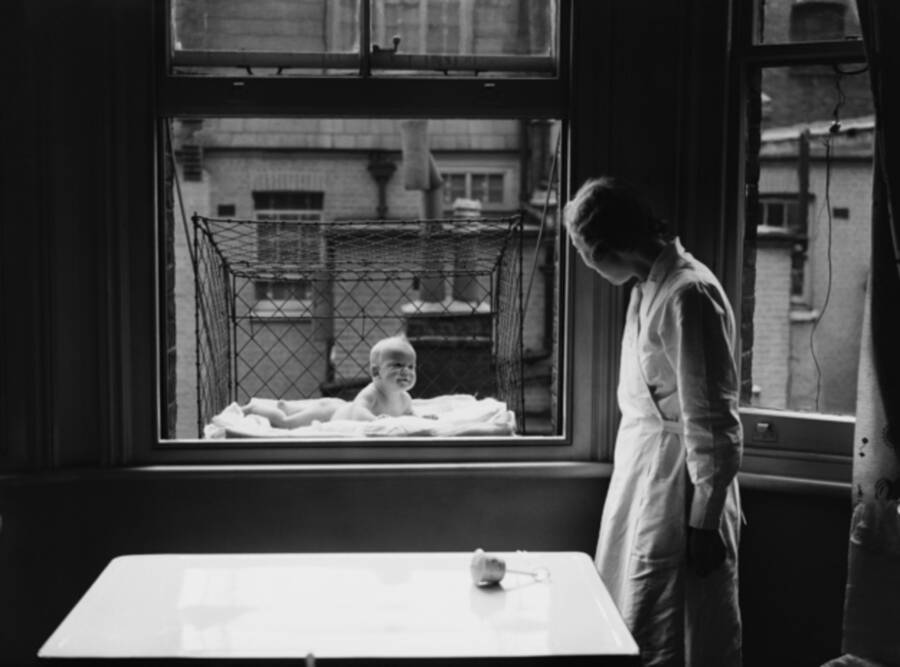 A baby cage from the 1930s.
Playpens are an essential safe space for vulnerable small children. With dangling ornaments aimed to distract and tantalize their minds, cribs are helpful for kids and a relief for parents. But in decades past, however, playpens often dangled several stories above the ground.
In the late 19th-century baby cages emerged. Thanks to Dr. Luther Emmett Holt's concept of "airing" popularized by his 1894 book The Care and Feeding of Children, parents in city-based apartments across the United States felt it was essential to give their kids time in the fresh air — at all costs.
"Airing" was thought to improve children's ability to withstand common colds and help them grow resilient to disease. In other words, exposing kids to low temperatures was thought to be an intelligent parenting choice.
Years before these products became commercial, people as sophisticated as Eleanor Roosevelt constructed baby cages out of chicken wire themselves.
The future First Lady simply purchased some chicken wire and fabricated the dangling playpen — which she suspended outside of her East 36th Street window in New York City in 1906. Her first child, Anna, fortunately, survived being plopped into a makeshift cage that precariously hung dozens of feet above the Manhattan pavement.
However, not everyone saw the wisdom in baby cages that hung from city windows as air conditioners do today. The Roosevelt's neighbors threatened to call authorities on the family.
In 1922, Emma Read of Spokane, Washington filed a patent on a "portable baby cage" to give children access to "airing." "It is well known that a great many difficulties rise in raising and properly housing babies and small children in crowded cities, that is to say from the health viewpoint," Read's patent application stated.
"With these facts in view, it is the purpose of the present invention to provide an article of manufacture for babies and young children, to be suspended upon the exterior of a building adjacent an open window, wherein the baby or young child may be placed."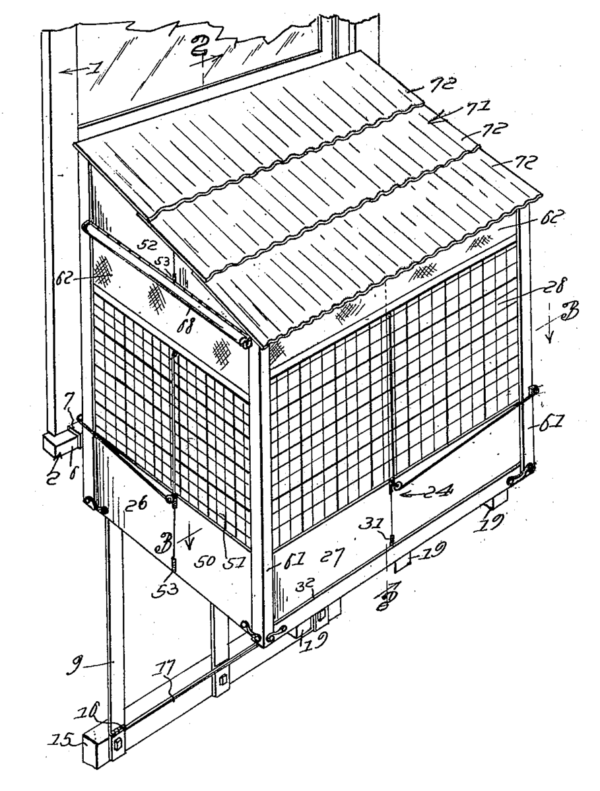 The primary illustration of Emma Read's 1922 patent for a "Portable Baby Cage."
Baby cages grew even more popular in the 1930s, from New York City's high-rises to the smog-filled inner-city boroughs of London.
Incredibly, it doesn't appear that any children in baby cages died or were injured. However, a general reassessment of parenting norms and child safety during the latter half of the 20th century saw this troubling trend "fall"
Watch for Part 7 of 7 Absurdly Dangerous Toys That Your Parents And Grandparents Probably Got For Christmas - Dangerous Clacker Toys That Were Literally Explosive