Why brave the cold and dark when you can sleep through the worst of winter? That's exactly what some members of the animal kingdom do. Called hibernation, this blissful state of inactivity functions as a way of escaping sub-zero temperatures, conserving energy when food stocks are low, and even gestating young while pregnant.
Browse the gallery and find out which animals like to doze when the temperature drops.
Asiatic black bear
Only pregnant females hibernate, entering their dens mid-October and only emerging the following March, offspring in tow.
See also: Roaring or yawning? Incredible sleepy wildlife moments.
Asiatic black bear
Known also as the "moon bear" or "white-chested bear" for its characteristic white V-shape on its chest, these bears are classified as vulnerable due to habitat loss and, sadly, hunting for their body parts.
Deer mouse
Nests can be found anywhere that's warm, which includes your own home. Deer mice don't go into complete hibernation, but you'll not see much of them before spring.
Deer mouse
With their beady eyes and cute noses, these adorable little creatures tend to snuggle down in winter and do as little as possible, surviving on their stash of food collected over the summer months.
Snakes
Brumating snakes remain awake but appear inanimate. Dens can contain just one snake, or accommodate several hundred. Watch where you tread!
Snakes
In regions where winters are colder than snakes can tolerate while remaining active, local species will brumate (when physical activity is temporarily suspended).
Skunk
Though dormant, they'll occasionally wake up to forage depending on their needs. As many as a dozen females may den up together during winter while males often see out the cold alone.
Skunk
Think skunk and stench immediately comes to mind. Known for their ability to spray a liquid with a strong, unpleasant smell, these animals are not true hibernators in winter, but do den up for extended periods of time.
Bats
Most hibernating bats however do so for anywhere between a couple of hours and two weeks, waking up only to drink. Interestingly, they use the heat stored in their bodies to help kick-start themselves back into flight mode.
Bats
Like hummingbirds, bats preserve heat and energy by slowing down their metabolic rate to enter a state of torpor. Not all bat species hibernate, but those who do can spend up to 60 days just hanging around.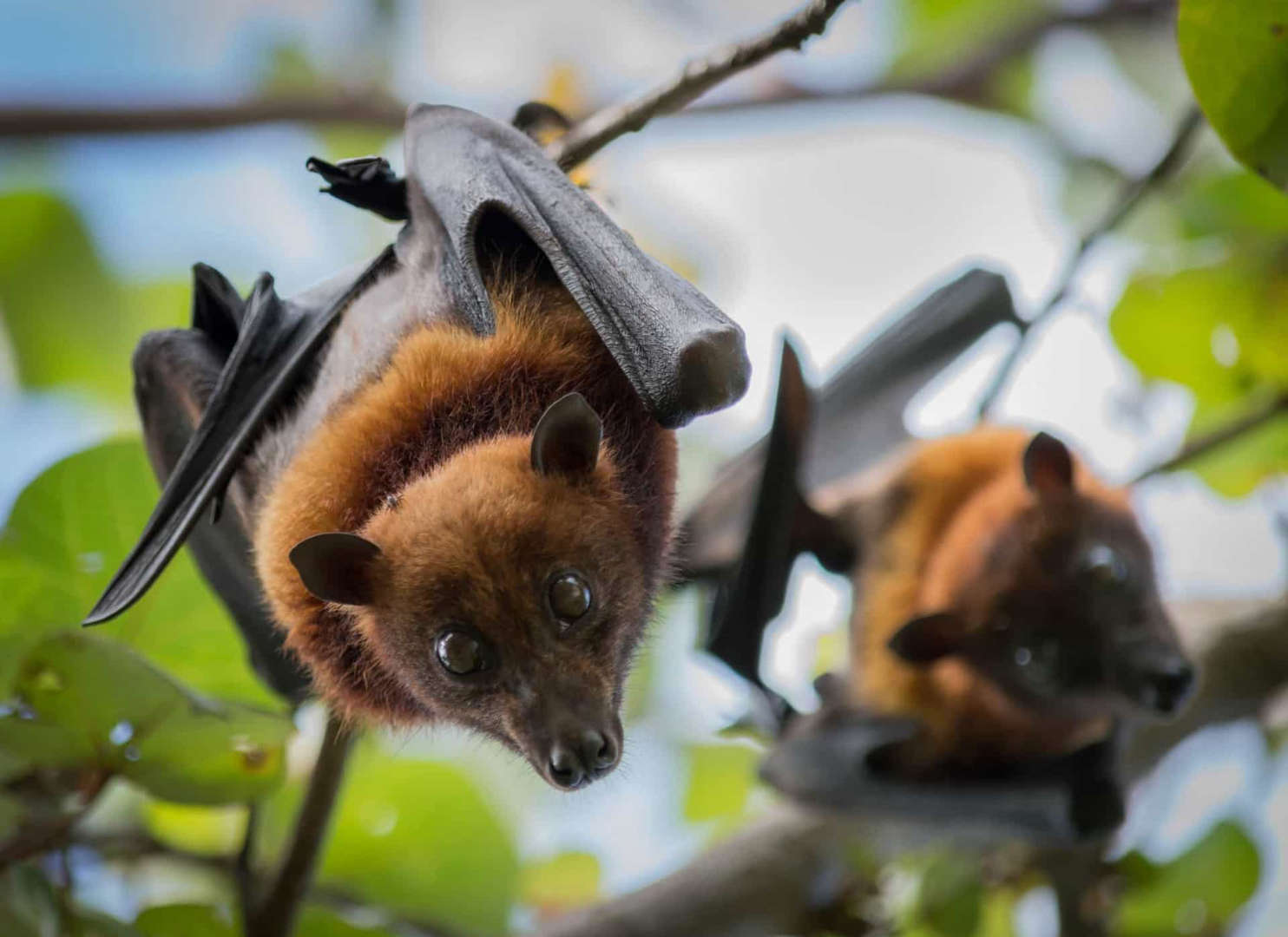 Groundhog
The animals hibernate from October to March or April, during which their breathing rate drops to one breath every six minutes. This produces a heart rate of around 4–10 beats per minute.
Groundhog
Also known as a woodchuck, groundhogs are one of the few species that enter into true hibernation. Traditionally relied upon to predict the weather, these large sociable rodents build separate winter burrows as the temperature drops and snow begins to fall.
Gila monster
Despite being a native to the southwestern United States and the northwestern Mexican state of Sonora, the reptile is not a fan of mid-summer heat and will seek shelter underground. But it's not too taken by the cold either, and by November it's permanently under the surface, hibernating until February.
Gila monster
This handsome lizard is venomous (one of only two known species of venomous lizards in the world), but it's hardly a monster!
Moth
However, moths that do brave the cold will enter a period of inactivity.
Moth
The life of a moth is pretty short, and that means they don't necessarily live through the winter months. In fact, few species actually fly and reproduce through winter.
Fat-tailed dwarf lemur
Endemic to Madagascar, the fat-tailed dwarf lemur is unique in that it is the only tropical mammal and only primate that hibernates, and this despite the fact that Madagascar experiences relatively warm winters. The species can hibernate for up to seven months, during which it can't control its body temperature. This means that if the tree hole it uses to nestle down in is not adequately insulated, the mammal's body temperature will fluctuate according to the outside temperature.
Bees
The bumblebee does hibernate, but only if it's a queen. By fall, all regular bumblebees in a colony will have died off, leaving the queen safe and cozy in a hole in the ground ready to begin a new colony in the spring.
Bees
Do bees hibernate? Well, it really depends on the species. Honey bees for example are generally perceived as workaholics and tend to see out winter on the wing.
American black bear
Hibernation typically lasts 3–8 months, depending on regional climate. Tree cavities, caves, and under logs or rocks are preferred den sites.
American black bear
Only pregnant females and mothers with yearling cubs will enter hibernation. Considered true hibernators, female American black bears enter their dens in October and November, having bulked up on extra body fat to survive the long winter ahead.
Chipmunk
The diminutive rodent with its striped coat is not a true hibernator, and only the eastern chipmunk beds down in winter to enter a state of torpor.
Chipmunk
The chipmunk—a smaller and less bushy-tailed version of the ground squirrel—is native to North America. It's a popular pet choice in some countries.
Ladybug
When it starts getting cold it's common to see these bugs gather, or aggregate, in their hundreds or even thousands on the south sides of trees or houses during the winter months. This mass bed-in is the easiest way to stay warm.
Ladybug
Known as ladybirds in the United Kingdom, these distinctive members of the beetle family are as familiar in summer as sunshine itself.
Box turtle
Box turtles are native to North America and occupy a wide variety of habitats. Prior to hibernation, however, they tend to move further into the woods, where they dig a chamber for overwintering. During hibernation, their heart rate drops to just one beat every 5-10 minutes and they don't have to breathe in air at all (although they do take in oxygen through their skin).
Box turtle
Turtles that live in warmer, sunnier climates do not hibernate. But since they can't produce their own body heat, it's a must for turtles in colder climates to hibernate when temperatures start dipping.
Land snail
How do they sleep? Well, they retreat into their shells and close up the opening with a thin layer of mucus made of their own slime. This not only traps heat but protects them from the elements, and prevents them from drying out. Clever, eh?
Land snail
Not all snails hibernate, but this species tends to avoid the cold winter months (typically October through April in the Northern Hemisphere) by finding places under rocks, in leaves, or in the snug corners of buildings.
Polar bear
In fall, pregnant female polar bears will dig a maternity den where she'll enter a dormant state similar to hibernation, and where the bear's heart rate slows from 46 to 27 beats per minute. Cubs are born between November and February.
Polar bear
The largest bear species lives in some of the most inhospitable terrains on Earth. It's generally a solitary creature and classified as vulnerable because of habitat loss caused by climate change.
Hummingbird
When it's cold or when food is scarce, the tiny bird goes into torpor in order to preserve energy. This slows their metabolic rate to 1/15th of its normal rate, and during this time they often hang upside-down as if dead.

Hummingbird
Among the smallest and one of the most beautiful of the world's bird species, hummingbirds have the highest metabolic rate of any animal.
Wood frog
After finding a place to settle down, the frog starts to nod off, its blood and other tissues actually freezing as it begins to hibernate. Their hearts stop beating as ice crystals form in the blood. Eventually, as the weather warms up, this amazing creature starts breathing again as its tiny heart starts pounding. A wonder of nature!
Wood frog
Not only do these tiny long-legged customers hibernate, they actually freeze while doing so. But don't worry, these little guys have an astonishing freeze tolerance.
Common poorwill
The bird spends much of the winter inactive, effectively hibernating by concealing itself in piles of rock or undergrowth for weeks and even months at a time.
Common poorwill
A nocturnal species, the common poorwill is the only bird known to go into a torpor—a state similar to hibernation—for an extended period.
Brown bear
That said, brown bears can be woken easily from their winter den, which is often a cave, a hollow log, or cavernous tree root large enough to accommodate their huge bulk.
Brown bear
Only four species of bear are hibernators, and the eponymous grizzly is one of them.
Hedgehog
You often hear these prickly mammals before you see them, snuffling unseen in the undergrowth. By fall they are very busy, constructing nests out of the grass, dry leaves, and other vegetation in readiness for the long winter ahead.
Hedgehog
During hibernation, the body temperature of a hedgehog can decrease to about 2°C (36 °F). They tend to wake up regularly during hibernation, but rarely leave the security of their nest.