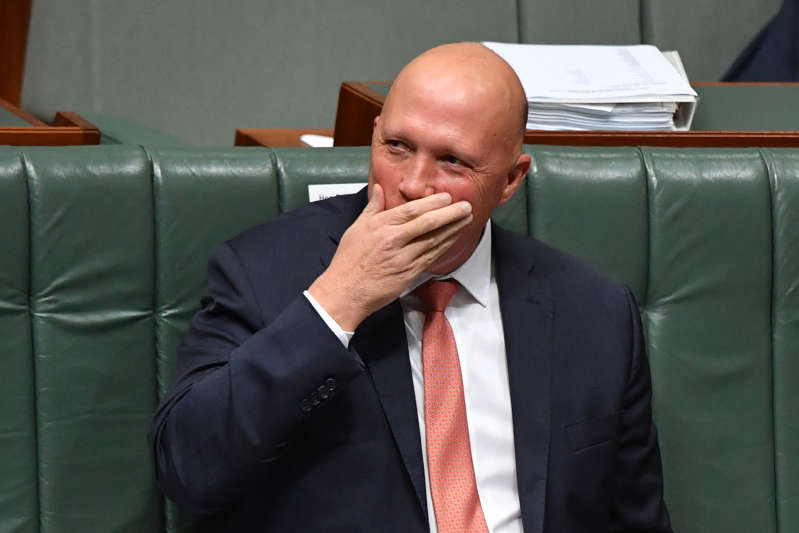 The Morrison government has asked the Department of Defence to review the Northern Territory's 99-year-lease to Chinese-owned company Landbridge - a deal that has unsettled national security figures in the federal government since it was signed six years ago.
Defence officials are looking at whether the company, owned by Chinese billionaire Ye Cheng, should be forced to give up its ownership of the port on national security grounds under critical infrastructure laws passed in 2018.
The federal opposition and national security experts have questioned the deal since it was signed in 2015.
Defence Minister Peter Dutton confirmed the National Security Committee of Cabinet had tasked his department to "come back with some advice so that work is already underway".
Asked whether the options would include forced divestment, Mr Dutton said the government needed to wait for Defence to provide its advice and, "we can look at options that are in our national interests after that".
Mr Dutton's comments follow Prime Minister Scott Morrison suggesting last week his government would act on the port's ownership if he received advice from the Department of Defence or national security agencies.
"If there is any advice that I receive from the Department of Defence or intelligence agencies that suggest that there are national security risks there then you'd expect the government to take action on that, and that would be right," Mr Morrison said.
Michael Shoebridge, director of the Australian Strategic Policy Institute's defence program, said he would support forcing Landbridge to divest from the asset but the company should consider doing so themselves.
"I would wonder whether it is in the company's commercial interests to continue operating that port for 99 years in the strategic environment they find themselves," he said.
"I think it's obvious that if the Darwin port lease was being considered today, the result would not be to lease it to a Chinese-owned company for 99 years.
"So with that realisation, how do you undo the damage and more importantly how do you develop Darwin as an increasingly important naval and defence facility in the darker strategic environment we and our partners and allies find ourselves in?"
Mr Shoebridge said the alternative to forced divestment was to develop the port around the section owned by Landbridge, "treating that part of Darwin port like the sand in the oyster".
"It seems a strategic own goal for one of the best parts of Darwin harbour to be in the control of a Chinese-owned operator," he said.
In 2015, the NT government signed the $506 million agreement with Landbridge, giving the Chinese company total operational control of the port and 80 per cent of the ownership of the land and facilities of East Arm wharf including the marine supply base.
The federal government then tightened the foreign investment rules, requiring the Foreign Investment Review Board to approve the sale of critical infrastructure such as ports to private companies.